When:
November 16, 2017 @ 7:30 pm – 9:00 pm
2017-11-16T19:30:00-05:00
2017-11-16T21:00:00-05:00
Where:
Breezeway Yoga Studio
4830 Kingston Pike
Knoxville, TN 37919
USA

AcroYoga Series 
This series explores partner yoga foundations, flying postures, counterbalances, inversions, and therapeutics. By the end of this series, students will be confident jamming and playing with both the Knoxville Acro Community and their friends. This series is for those who are new both yoga and acro, as well as for those who want to strengthen their knowledge of AcroYoga foundations. 
New students are asked to commit the full series, as each session will build on the one from the week before, offering a space to progress more quickly. 
No Partner Needed!
---
Intermediate AcroYoga Series (Check Calendar for Dates)
This class series are for students who already have some experience under their belt. We dive deeper into the Acro practice playing with low foot to hand, pops, turns and twists, dynamic movements and washing machines.  Class is co-taught assisted by Frank Genovise. 
No Partner Needed. 
Prerequisites include*: Hands-free Bird mount; Hands free bird presses; Cartwheel in to straddle bat; Hop to Star. (*Though students are not required to have mastered each pose, they must know the names of the static poses listed on the AcroKnox AcroYoga Poster (Posters available to buy or review at all classes). 
---
AcroYoga at Breezeway!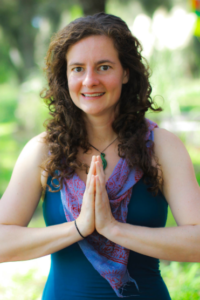 We're pleased to welcome Rebekah Luhrs back to Breezeway for intermediate and beginner AcroYoga classes. 
For Rebekah, teaching and practicing yoga is a lifestyle. As an individual, it is a way for her to push herself to grow both physically and spiritually. Based on a foundation of trust, communication, and support, the practice of AcroYoga empowers positive growth in individuals, relationships, and communities in the most fundamental ways. Ultimately this growth is what she is passionate about.
Rebekah has been practicing yoga for almost ten years and completed her 200-hour Yoga Teacher Certification Training at the Asheville Yoga Center in North Carolina. She has been practicing AcroYoga since 2011 and is a certified instructor through AcroYoga International. After several years of teaching both in the US and internationally, she is excited to be offering weekly acro classes in Knoxville. Frank Genovise co-teaches most classes. 
AcroYoga is a dynamic partner practice that blends the wisdom of yoga, the dynamic power of acrobatics, and the loving kindness of healing arts.  New content is explored each week while reviewing components taught in previous classes and workshops. Space is provided for students to form strong foundational skills by utilizing spotters. AcroYoga as a practice that is available for every body, age, and ability.
---
https://breezewayyoga.com/wp-content/uploads/2014/07/BreezewayYoga-Logo-stacked-340.png
0
0
dwmcclure2014
https://breezewayyoga.com/wp-content/uploads/2014/07/BreezewayYoga-Logo-stacked-340.png
dwmcclure2014
2016-09-23 07:11:55
2017-12-06 09:22:45
AcroYoga Series / Class with Rebekah Luhrs