When:
April 14, 2018 – April 15, 2018
all-day
2018-04-14T00:00:00-04:00
2018-04-16T00:00:00-04:00
Where:
The Embodiment Center
120 Coxe Ave
Asheville, NC 28801
USA

Cost:
Early Bird (through March 30: $195; After March 30, $225
Contact:
Kristine Kaoverii Weber, MA, C-IAYT, eRYT500, YACEP
You can't be alive without a body so of course we are all "embodied."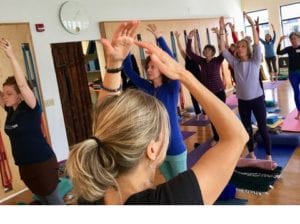 But embodiment is not black and white – there's a continuum and the better embodied you are, the greater your contentment and health.

So

April 14 and 15

we'll get down to it – we're going to explore how embodiment looks and feels, and the neurobiologic mechanisms which underlie embodiment.
James Joyce famously describes disembodiment in his lonely character of Mr. Duffy: "He lived at a little distance from his body." 
Mr. Duffy could be that student in the back of yoga class who can't quite seem to figure out where his left foot is.
BTW, that student is no anomaly, all of us need more embodiment. 
What does it mean to be better embodied? Basically it means having a better relationship with your body. It doesn't necessarily mean being a great athlete, dancer, or yoga performer, it means learning to listen, to engage in easeful movement and posture, and particularly, it means learning to embody ahimsa, or kindness towards yourself.
Embodiment is something we can always improve and IMHO, it gets better with age.
I'd love you to join me

April 14-15

and learn some of the skills I've honed and developed over the years to help my students improve their embodiment skills.
You'll learn techniques that help to reduce inflammation, improve chronic conditions, elicit neuroplasticity, and lead to greater health and well-being. You'll learn
 how to rewire maladaptive movement patterns and develop a deeper, kinder relationship with your body. 

This workshop is for you if you struggle with (or work with folks who struggle with):

Depression and/or anxiety
Chronic conditions including pain
Autoimmune challenges
Addictive tendencies
---
---
If you haven't signed up for this workshop yet – you really should. It's going to be fun, full of experiential practices, and the latest research on the neurobiology of yoga. I love geeking out on yoga research and you are going to get the gems!
Hurry it's already half full and, if the previous 3 Subtle Yoga Community Workshops are any indication, we expect it to sell out. Can't wait to see you there!
If you love slow, subtle movement and the amazing benefits it gives you then you will love this workshop.
Missed my last blog," Yoga Wrecks Your Body"? click here to read it.
Check out
subtleyoga.com
for, blogs workshops, trainings, CEUs for Behavioral health professionals and CEUS for yoga teachers. 
Click here.

https://breezewayyoga.com/wp-content/uploads/2018/01/Breezeway-Yoga-and-Massage-Logo-2018-300x195.png
0
0
dwmcclure2014
https://breezewayyoga.com/wp-content/uploads/2018/01/Breezeway-Yoga-and-Massage-Logo-2018-300x195.png
dwmcclure2014
2018-03-26 06:47:45
2018-03-26 06:54:56
Neurobiology of Embodiment – with Kristine Kaoverii Weber