Mark your calendar for the next restorative and sonic meditation session on Friday, September 23, 7 – 9PM
The next restorative session with patty will feature original compositions from Ian Morris of listeningtosmile.com.  We are excited to share this sonic meditations with our restorative students. $30 per person. Connect with patty for your mat via phone or text: 865-951-6024, or email pattyyogamail@gmail.com.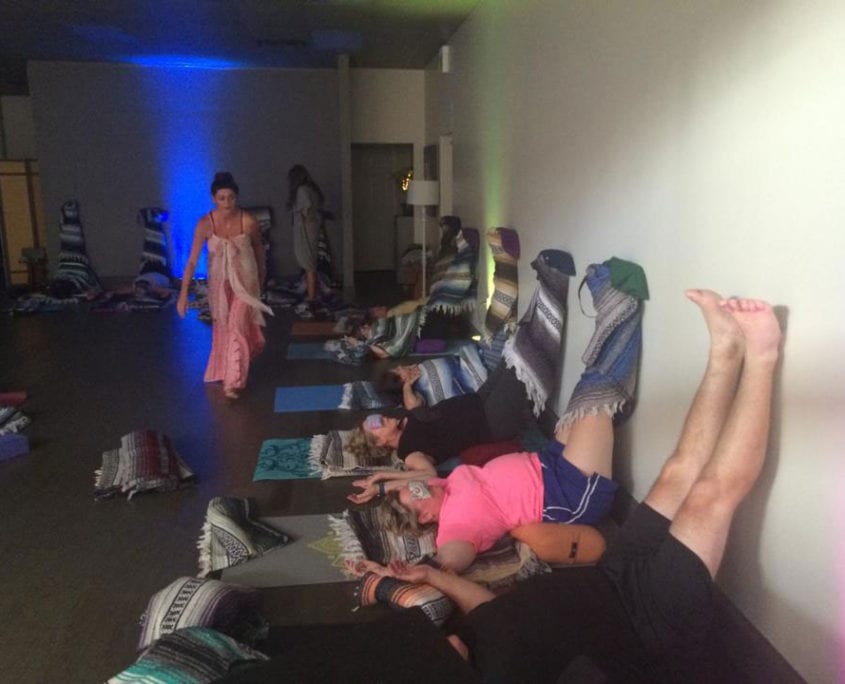 ---
Listening to Smile is a unique sound wellness/healing modality developed by Ian Morris. Ian is a multi-instrumentalist, artist, and intuitive healer who has been working in the creative arts field for over 15 years. He has developed an intuition-based creative and musical synergy that are the building blocks for the development of Listening to Smile. Listening to Smile's focus is to target core issues in the physical, mental, emotional and energetic bodies, restoring personal balance and flow into everyday life. These channeled tones include frequencies based around Solfeggio Harmonics and Schumann resonances woven with Listening to Smile's proprietary blends of groundbreaking sound technology.
patty's teacher training schedule
To all of patty's lovely current and future students, patty will be "out of the office" on the following dates for 500 hour RYT teacher training.
August 26-28
Sept 16-18
Oct 14-16
Nov 11-13
Dec 9-11
On these dates, the Friday noon and Saturday 11am classes at Breezeway will have a sub, and Saturday's 8:30am at Balanced You will be cancelled. 🙂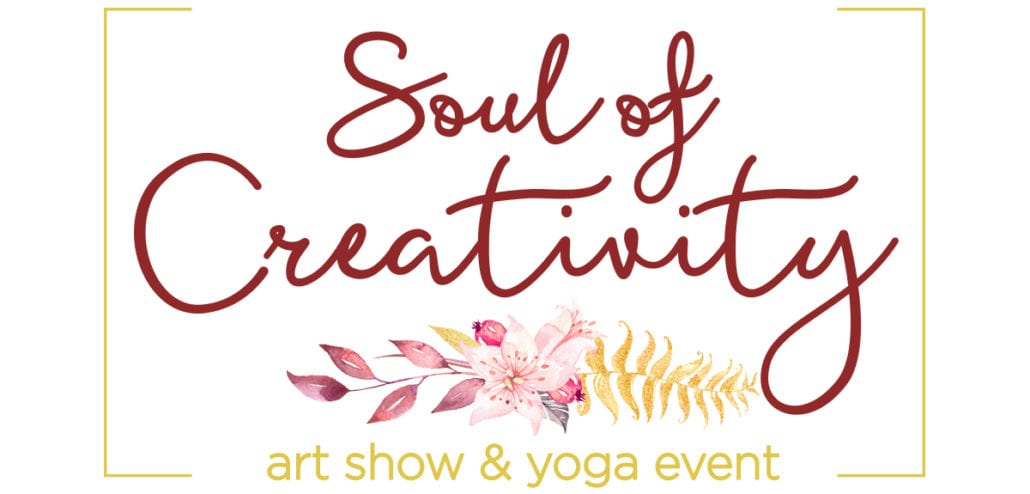 Save the date! We are pleased to announce the next Soul of Creativity event on Thursday, November 2nd, 4-8PM in the Knox Plaza breezeway. We were so very grateful to each artist, musician, yoga instructor, and vendor who joined us last November and look forward to seeing you all again this year.
This is a great opportunity to start your holiday shopping by supporting local artists and The Cancer Support Community's mission to ensure that no one faces cancer alone.
New classes at Breezeway!
Philip Clift began instructing yoga in Knoxville in 1993, and was the first in this area to teach in the vinyasa style. His classes are a subtle variation of Ashtanga Vinyasa yoga, in which he incorporates modern music playlists to create high-energy workouts that are both physically challenging and energetically soothing.
A twenty five year professional massage therapist, Philip combines expert hands-on adjustment techniques and invigorating posture sequencing to aide practitioners in steadily improving their understanding of yoga dynamics and body/mind functioning. A graduate of the Atlanta School of massage, his bodywork/massage is a blend of deep tissue, Ashiatsu, and Thai massage techniques that provide therapeutic relief and deep relaxation.
Philip will be teaching a 90 minute power yoga class Thursday at 6pm and offering bodywork/massage sessions at Breezeway Yoga Studio while transitioning into the opening of his own studio later this year.
A very special thank you to Patty Dougherty, whose kindness and generosity have afforded this wonderful opportunity.
You can reach Philip at philipbclift@gmail.com
…………………………………………………….
Meryl Kerns invites you to Yinyasa
Tuesday mornings at 9:00AM and Tuesday nights at 7:30PM
This integrative class will combine the heating, fluid motion of Vinyasa Flow with the surrender and stillness of Yin Yoga.  
Our practice will tap into the connective tissues of the body to open up our range of motion; allowing us to melt into our stretches effortlessly. With meditation and the use of pranayama, we will open up the energy channels of the body to yield feelings of fullness and completion. 
This well-rounded practice is open to yogis of all levels, although basic yoga knowledge will be beneficial.
…………………………………………………….
Beginning Vinyasa and Vinyasa Power Flow with Cristina
Beginning Vinyasa: Mondays at 5:30PM
Vinyasa Power Flow: Tuesdays and Thursdays at 6:00AM
Beginning Vinyasa is a great place for every student, whether you are brand new to yoga or you are refining your practice. In this class you will learn basic breathing exercises, foundational poses, & sun salutations. You will quickly notice deep changes in your energy level, a greater sense of relaxation, and more inner awareness.  The approach of Beginning vinyasa is slow to moderately paced in order to learn correct alignment and to avoid injury. This is your chance to glean and discover the fruits of yoga: vigor and vitality, balance, peace, a sense of well-being, and joy.
…………………………………………………….
Tune up your life force to get your day & week off to a refreshed, peaceful beginning! Deep breathing & gentle movement w/ancient visualizations designed to refresh & recharge body & soul. Drop in any class to give it a try!
Russell has practiced Qigong & Tai Chi for 38 years. He has taught hundreds of Knoxvillians these arts, & he is delighted to now be a part of the "Breezeway experience". Connect with Russell via email — russellsauls@gmail.com.
…………………………………………………….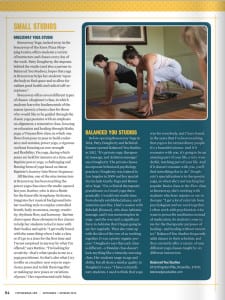 Breezeway Yoga and Balanced You Studios were recently reviewed in Knoxville's Cityview magazine. We were thrilled to see instructor Jill Bartine on the cover as she is such an amazing spokeswoman for our studios and for yoga. The article offers a broad view of the Knoxville yoga scene and the various great yoga studios within our community. Click the page at left to read the article.
We've added a new therapeutic class at Breezeway.
We are blessed with abundance of students at our sister studio, Balanced You Studios! To better accommodate our growing class numbers, our 5:30 PM Wednesday Therapeutics class has relocated to Breezeway Yoga Studio. Beginners & Injuries Welcome!
---
Laura Mansfield's 6PM Vinyasa class is now at 7:00PM.
Vinyasa yoga is a series of poses that will move you through the power of inhaling and exhaling. Vinyasa, also called flow yoga, is known for its fast-paced, fitness approach, synchronizing breath and movement. This is an instructor-led 90-minute class.
KNOXVILLE, Tenn. (WVLT) —
September is the official National
Yoga
Month. For some East Tennessee yogis, it's a practice they say they will continue for a lifetime.
Video here.  http://www.local8now.com/home/headlines/East-Tennessee-yogis-show-health-benefits-from–277048451.html
Knoxville native Patty Dougherty says she was unhealthy and didn't want to age that way. Her practice began 15 years ago, it eventually lead her to teach and own two yoga studios in East Tennessee.
"That's the great thing about yoga, it meets you where you are, whatever you abilities are, yoga enhances those abilities," says owner of Breezeway Yoga Studio Patty Dougherty.
Bob Baker had a dozen major back operations in 7 years, each time he steps onto his yoga mat, he says his health improves.
Baker says, "I had polio at age 6, it was not debilitating, but it was none the less there and i was told in my low 30's that i would have major back surgery later on and to hold off as long as possible."
He says practicing yoga helps stop the stiffness and allows him to be more flexible.
Stretching, breathing, meditating all help Angela Rogers as she recovers from endometrial cancer, along with some other health issues.
"I started developing some digestive issues and I had asthma and so through the yoga and learning the teacher training it helped me to come off asthma medicine," says Rogers.
Instructor, Tanya Kanczuzewski says, "You can easily see them (students) progress and go from 'I can't do this, to I can do more than this and they can take that out into what they do everyday."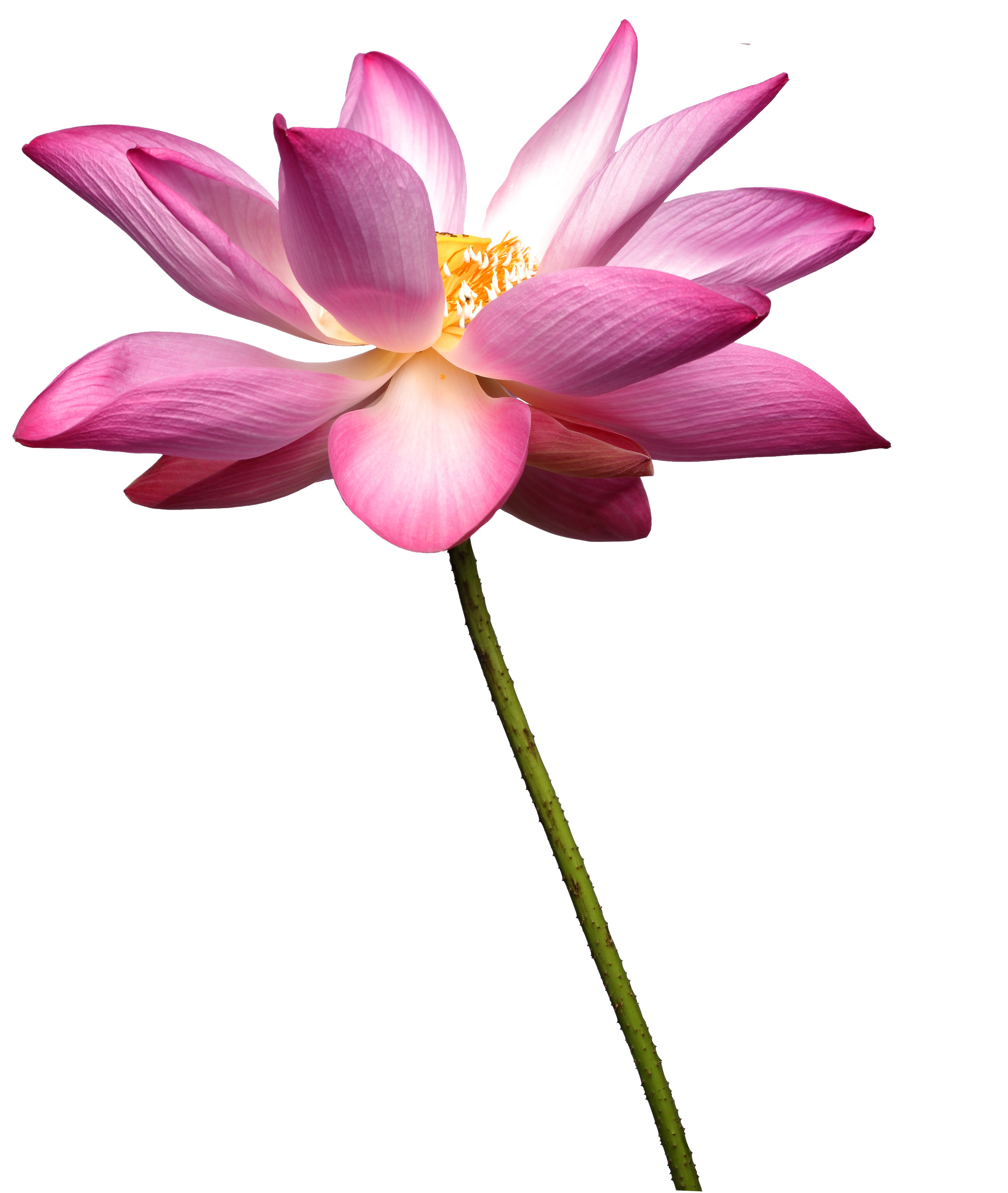 Breezeway Yoga Studio in the Knoxville News Sentinel
Article by Carly Harrington, Knoxville News Sentinel
Driving down Kingston Pike past the Kroger in Bearden, you may never notice the shopping center's somewhat hidden breezeway connecting various businesses.
Just beyond Wigs by We3 and Roger's Shoe Repair shop, Patty Dougherty said she found the perfect location to open her newest yoga studio.
"It's right in the heart of one of the busiest parts of town, but it's set away at the end of breezeway. I feel like you should have a yoga studio near where you live, and so many of my clients live in this area. It made sense for me to open the studio. The clincher was when I found the location," she said. "It was such an ideal location that I was willing to make it work no matter what I had to do."
Breezeway Yoga Studio, a cooperative of yoga instructors and therapists who offer various styles of yoga, opened in the Knox Plaza shopping center Aug. 1.
The studio is located just down the road from The Practice Yoga in Western Plaza, which recently closed. It was where Dougerty's four largest classes were taught.
At the other end of Bearden, Dougherty, a clinical therapeutic practitioner, also co-owns Balanced You Studios at 6712 Kingston Pike with Rebekah Knause. It's a smaller studio that opened two years ago and can accommodate up to 10 students or private or semiprivate instruction.
"The first business is great. It's profitable. I just needed a place for a larger class," she said.
Dougherty grew up in Knoxville, beginning her career working as a writer, producer and director at WBIR Channel 10. She was promoted to Chicago but later started freelancing, allowing her to travel around the world. She eventually made her way to Southern California, living on a sailboat for seven of her 10 years there.
At the time, her weight had topped out at more than 200 pounds. Dougherty had just started studying yoga and mediation when her doctor suggested putting her on various medications.
"I looked at this stack of prescriptions and said, 'No way,'" she recalled. "Once I recognized how beautiful I could heal myself, that's when I decided to start getting trained."
When her father became sick, Dougherty began commuting back and forth to Knoxville. In 2010, she moved back, making Knoxville her home.
"My heart was breaking every time I left Knoxville," she said. "I decided I wasn't willing to leave my mother, so I just came here to stay."
Breezeway Yoga Studio, which features cork floors, will offer classes that include yoga basics, restorative, vinyasa, power, flow and yin yoga. It will soon offer ashiatsu massage therapy, which uses feet to apply pressure instead of hands.
Business reporter Carly Harrington may be reached at 865-342-6317 or harrington@knoxvillebiz.com.
http://www.knoxnews.com/business/carly-harrington-yoga-studio-finds-home-in-knox-plaza-breezeway_45807716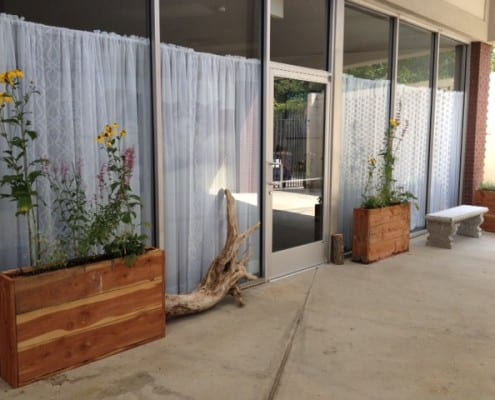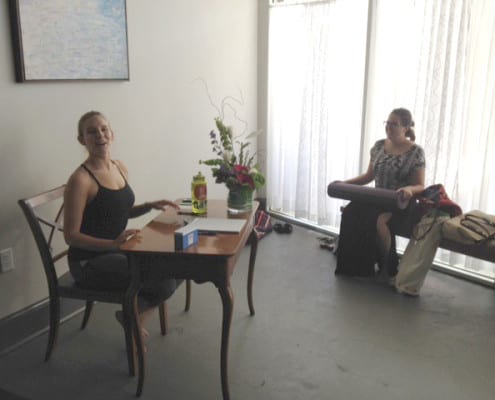 The planters are planted, the draperies are hung, the flowers are blowing lightly in the breezeway. Isn't our entrance inviting? 🙂
We're ready for your visit!
Bailey Wamp lead the first class at Breezeway with her Vinyasa class. Here she is signing in one of Breezeway's first students!
Click here to add your own text